How we got to Haiti: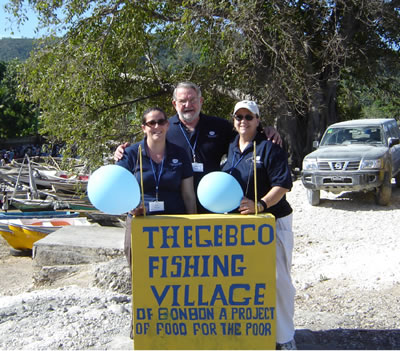 In 2004, GEBCO began looking for a way to "give back" as a company for the many blessings we had received since our origin in 1987. It didn't take much searching to discover endless needs. At that time extreme poverty was getting world-wide attention through the
Millennium Development Goals
and some high-profile, super-rich folks like Bono and Bill Gates. Our search eventually led us to
Food for the Poor
, a US charity organization claiming to serve the "poorest of the poor" throughout Latin America and the Caribbean.
We visited their home office in South Florida, and eventually took one of their pilgrimage tours to Jamaica to view their operation first hand. Not only did we find their claim to be true, but we also found a very dedicated group of people quite serious and effective in bringing aid directly to where it is needed, and with a minimum of overhead. In addition to supporting and supplying basic services like schools, nursing homes, clinics, feeding centers, etc,
FFP
is also active in implementing new and effective ways to meet needs, i.e., building strong little
homes
, installing
water supplies
, and setting up fishing villages.
Their unique fishing village idea caught our fancy. Broken down fishing villages exist all around the coasts of the Caribbean countries. The boats are usually hallowed-out logs and rowed by hand. FFP's program would provide four fiberglass boats powered by 40hp engines, building a sturdy storage building near the beach, and supplying the equipment, training and oversight necessary to help them learn to fish in deeper waters and increase their catches by hundreds-fold. FFP was able to do this at a cost of $50,000.00 per village. Through generous donors they had already set up a dozen or so villages in Jamaica, but still needed a few more. We at GEBCO decided we could handle this over a couple of years.
"Life is what happens when you are making other plans." No sooner did we begin to set aside funds for this than hurricane Katrina hit in 2005. In addition to their everyday services, FFP is also a disaster response agency. They have huge storage areas at their headquarters and try to maintain an inventory of basic emergency needs (rice, beans, water, medical kits, etc.) to be able to respond to the hurricanes that inflict such great hardship to the poor in their area. So the call went out and FFP was one of the first agencies to bring substantial aid to the devastated Mississippi coast. And our first $10K being saved up for our fishing village went to their Katrina fund.
During this period, the political unrest in Haiti was settling down. FFP has maintained a facility in Haiti for 25 years, but was hampered by the constant unrest and violence there. After 2005 they began expanding their Haiti program and fishing villages was one of their priorities. They were no longer expanding the program in Jamaica so they asked if we would like to divert our funds to a village in Haiti. We had always heard that the "poorest of the poor" were in Haiti, so we happily switched our focus.
In February of 2008, the GEBCO Fishing Village opened at the small town of
Bon Bon
located on the far western coast of Haiti. We were invited to attend the inauguration along with donors to four other projects that had been completed around that time. It was a spectacular trip…a four day whirlwind journey that brought tears of joy witnessing the gratitude expressed by those villagers. We covered about 200 miles of rough terrain in rickety 4-wheel drive vehicles getting to and from the five villages. We also spent two nights in Port-au-Prince's
Montana Hotel
which was totally destroyed by the earthquake. While the Haitian countryside and coasts have a breathtaking native beauty with joyful people who live poorly, the slums of Port-au-Prince contain the worst poverty that our world has to offer.
We plan to put more details and pictures of our trip here in the future. But if you are looking for a worthy organization to which to contribute to assist the people of Haiti at this time of their great need, we heartily recommend
Food for the Poor
.
GEBCO is fully aware that our ability to "give back" is directly associated with the strong customer base we have enjoyed through the years. We deeply appreciate your support, and hope we can continue to earn it in the future, assuring our ability to share our proceeds where there is great need. Thank you!